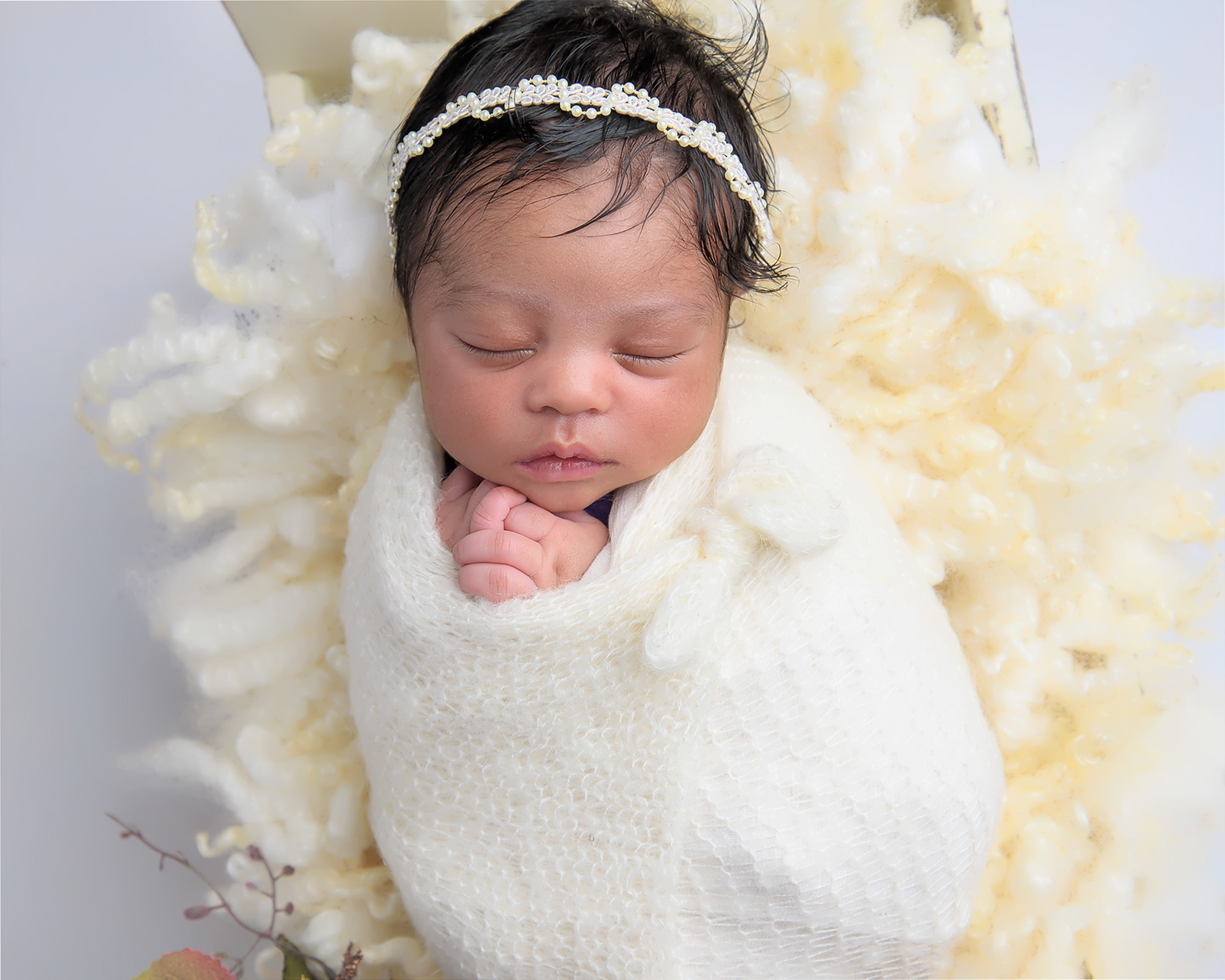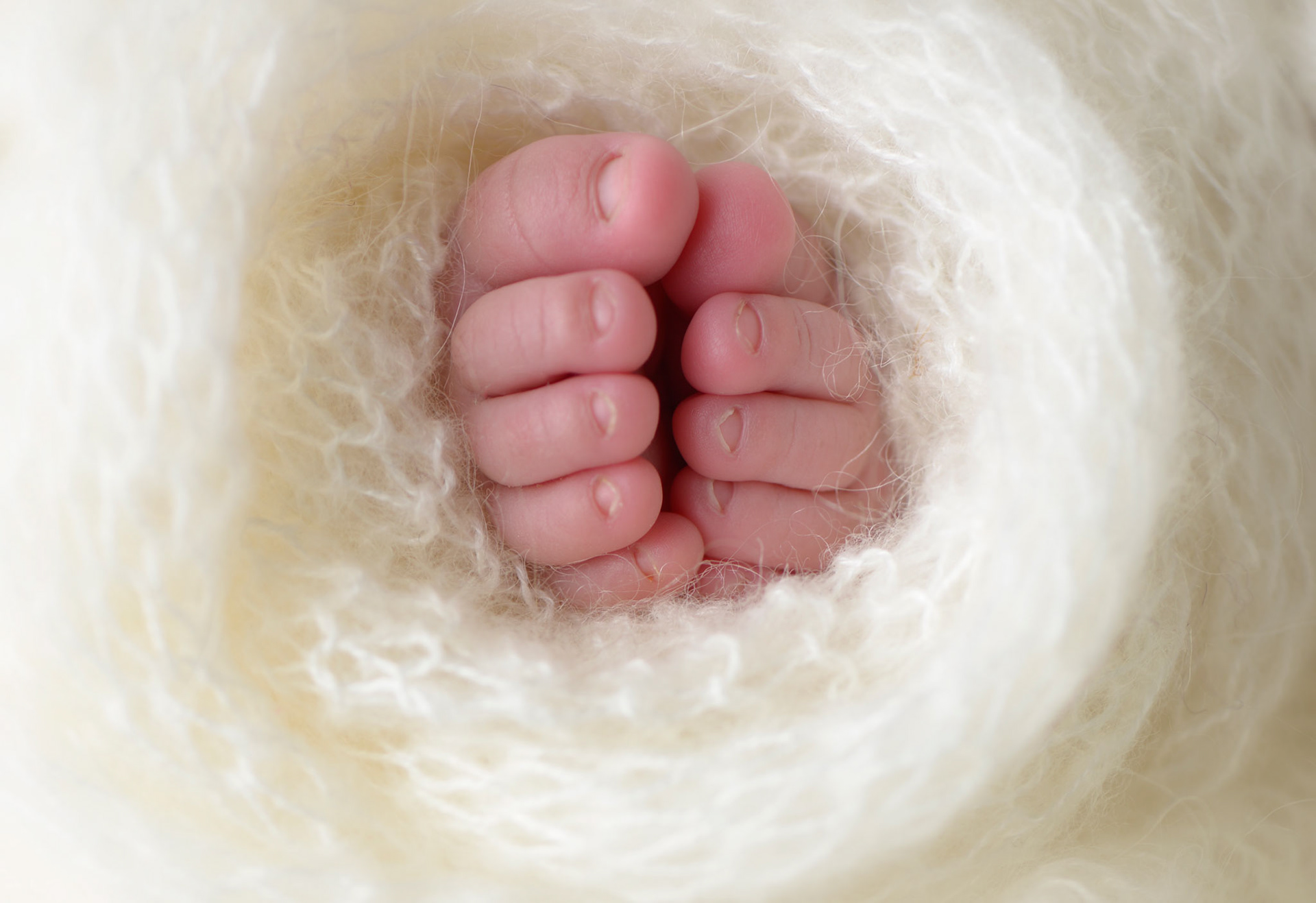 When to Schedule your session…..
The BEST time for your photo shoot is between 5 to 10 days after your baby's arrival.  After day 14, is still doable and we will get beautiful photos, however, it may be almost impossible to get baby into that deep sleep and curly newborn poses that comes so easily in the first few days. Ideally you will want to schedule your newborn session before you give birth to ensure a spot on my calendar.
Preparing and what to expect during your session…..
Your baby's safety comes first! For this reason I will always make sure someone is nearby to lend support if needed.
Mothers who are nursing should try to avoid eating anything spicy (i.e., pizza, hot sauce, etc.) that might upset the baby's tummy for 24 hours preceding the scheduled session.
If your session is being performed in my studio the temperature is usually kept around 75- 85° to keep baby warm while in their birthday suit. Parents also should dress in layers that can be removed easily if it's too warm.
Newborn Photography is a waiting game, 50% of your session will involve feeding, diaper changes and cuddling to get baby comfortable.
 I will have everything needed (i.e. blankets, wraps, bowls, baskets, headbands, and/or hats) all setup for your session but feel free to bring that special item you would like to include if you like.
Depending on your package, your session can last from 1 to 2 hours so if this is a studio session you may want to bring something to keep busy if not needed.
Please dress your baby in loose clothes to avoid any lines on their skin – a simple sleeper is best. Avoid "onesies" or anything else that must be pulled off over the baby's head
For Mom and Dad, keep clothing simple.  Neutrals, solid colors work best. I am also a big fan of skin-on-skin. This will create timeless portraits.
A well fed baby is a happy baby! You will feed and burp baby once you arrive to the studio, if applicable, for your session to ensure a happy, sleepy ("milk drunk") baby.
Bring a pacifier, if applicable, they can be very helpful during the session but if you choose not to, there are other methods we will use to sooth your little one.
PEE AND POOP HAPPENS
!
If we're doing naked photos, your baby is going to be in the buff for the majority of this shoot. Please don't panic if your baby decides to use my blankets (or us) as their personal potty and don't feel embarrassed or worry when this happens, because they all do it.  All of my baby props and blankets are cleaned between each session with non-scented, hypoallergenic baby detergent and cleaners.
AFTER YOUR SESSION….

.
I will go through all the images from your session and select only the best. Once your images have been edited you will receive an email within 2 week to review your complete portrait gallery to make selections for your package and individual images.
D
id I miss anything? Have a more specific question? I'm more than happy to help in any way I can to make sure you enjoy your Newborn Photography session so just shoot me an

email:
dianataylorphotography@gmail.com
or give me a call: 708-870-6378
Thanks you and I look forward to meeting you and your precious little one!